How To Choose the Best Ensuite Toilet Option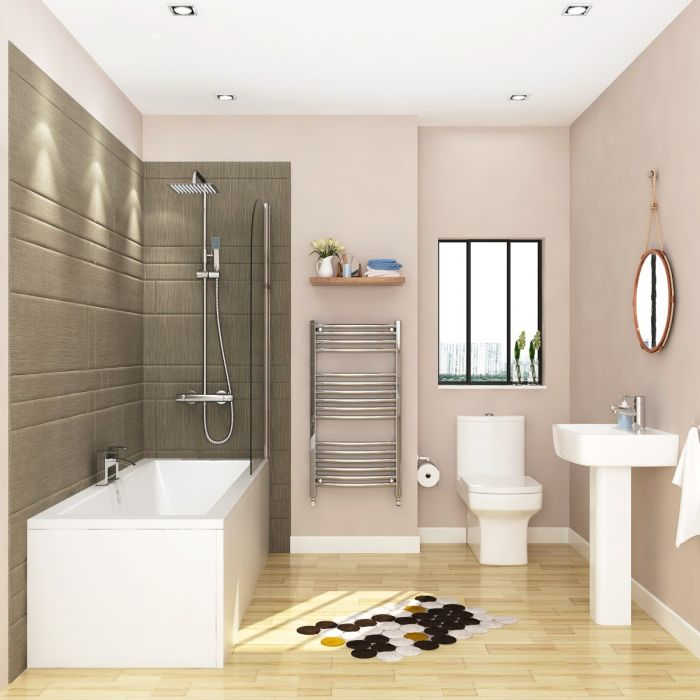 The ensuite toilet offers the same functionalities as its standard counterparts. But it is relatively small in size. The word ensuite comes from a French word that simply means after. When we use it while talking about the bathrooms, it simply refers to a family room with a washroom next to it.
Although most of the time, such washrooms are found in the master bedrooms. But it is not the only place where these exist. Perhaps, these may be found throughout the house and must have a shower constitute the full bathing facility. In terms of size, these are nearly half but offer essential amenities for the users. That means you will need compact-size fittings.
Planning For Ensuite Toilet Installation
When planning for the ensuite toilet installation, you will need to make the best use of space. Because all such spaces where space is your biggest concern, you need fittings that can help you save space or fit well into the limited space. 
That means standard-size fixtures are not an option in such a situation. The good news is that there are many types of space-saving fittings available in the market that can be a great pick for ensuite bathrooms. Among there are space-saving toilets as well, which are great for compact spaces. Perhaps, in many ways will save your space so, you can choose this space for other amenities.
Your Choice for Ensuite Toilet
When it comes to choosing ensuite toilet, there are many ways to save space. Which design or method will work best depends on your specific requirements, layout, available space, and other matters. For example, if you opt for a wall-mounted style, then it may not be possible in some cases.
Like you have a weak wall that cannot bear the breakage or weight of a floating style toilet. So, this option is not suitable for you. You may then look for other choices like Back to Wall and Close coupled toilets. Whatever the choice you make, there are ways to make it suitable for the ensuite. How is it done? we are going to explain further
Wall Hung Toilet
The best option for the ensuite can be a wall-mounted toilet. It is because this is the minimalist and most compact choice you have available. The cistern completely goes inside the wall while you have only a bowl visible outside.
So, the space under the bowl on the floor remains empty, which creates the illusion of a roomier bathroom. However, there are few downsides of such toilet choice, like the higher cost of unit and installation. You also need to have a sturdy wall to fit this toilet.
Back To Wall
If you don't have an option for wall-hung style, the second option you may consider is the Btw toilet. It is another minimalist design that stands on the floor along with the wall. The cistern, here again, will either go inside the wall or hides inside the WC unit. So, as a result, you get a cleaner look.
Here, you also can choose a bowl that has even more space-saving design like short projection, etc. Although a great option, it also has the same downsides as a wall-hung design. So, you have to consider these while planning for its installation.
Close Coupled Toilet
Although, for many, it will not be space-saving hence not suitable for ensuite. But modern innovation has made it possible to be a space-saving option as well. With both cistern and bowl visible and standing on the floor, it needs considerable space in the bathroom.
However, you can opt for a better and compact design that can be helpful in comparison to the standard variation. For such purpose, you should look short projection design that usually has a smaller cistern too.
Short Projection Design
This design is an effort to design a compact bowl. These have less depth and width, so their projection within the ensuite space remains limited. Although a smaller unit, it is completely functional and comfortable to use.
Only people with higher BMI may find it difficult to use due to its smaller bowl. You can get it separately and attach it with any of btw or wall-hung units.
Try Ensuite Toilet Basin Suites
Since matching, fixtures will be the most important thing for creating the look you want. We suggest you look for ensuite toilet basin suites as these will finding the perfect match a lot easier for you. In addition to that, due to the combined package of matching items, you can save money too. That is why such packages can be a great blessing when it comes to bathroom makeovers.
Are You Looking for Toilet Basin Suites?
In this article, have a discussion about the ensuite toilets. We list all the options that you may have available as stand-alone or part of the toilet basin suite. Understanding them will help you make the perfect choice for yourself.
At Royal Bathrooms online store in the UK, we have many types of suites available at reasonable prices. You can visit our website and explore the high-quality fixtures and place an order for the next day delivery. Good Day!
About Author